Habakkuk 2:14 - "For the earth shall be filled with the knowledge of the glory of the LORD as the waters cover the sea."
Acts17:6 - "These who have turned the world upside down have come here too."
"Whosoever will introduce into public affairs the principles of primitive Christianity will change the face of the world." (Benjamin Franklin)
Principles of Primitive Christianity that will Change the World
1. The principle of a solid foundation to build a great world upon. (Matthew 7:24-27)
President Abraham Lincoln, "I believe the Bible is the best gift God has given to man. All the good Savior gave to the world was communicated through this book. But for this book we could not know right from wrong. All things most desirable for man's welfare, here and hereafter, are to be found portrayed in it".
2. The principle of transformation is: whatever He tells you to do, do it! (John 2:5)
Obedience is the pathway to blessing. He will not bless you just anywhere, doing anything, or living any way you like. God will bless you when you are where you are supposed to be, doing what you are supposed to be doing, with what He has given you.
3. The principle of radical commitment to Christ. (Luke 5:27-28)
"He (Jesus) said to him (Matthew), "Follow Me." So he left all, rose up and followed Him." These are the results of experiencing the resurrected Christ. Oswald Chambers said, 'Having been gripped by God, I am ruined for anything else.'
4. The principle of the Holy Spirit, using His Power and Authority, in the Name of Jesus.
Acts 1:8 "But you shall receive power when the Holy Spirit has come upon you."
It's what turned a bunch of cowards into courageous, world changing, history makers!
Acts19:2 "Did you receive the Holy Spirit when you believed?"
Mark 16:17 "These signs will follow those who believe, In My name they will cast out devils."
5. The principle of personal and corporate prayer to bring healing to a nation.
2 Chronicles 7:14 "If My people, who are called by My name will humble themselves, and pray..." Never under estimate the impact of the righteous upon a community. (Genesis 18:17, 23-24)
6. The principle of the Church, which is His body, designed to be a full expression of Christ to the world.
Matthew 16:18-19 "I will build My church, and the gates of Hades shall not prevail against it."
If you understand His church, you will love it and if you love it, you will invest your life in it.
Psalm 122:1 "I was glad when they said unto me; let us go up to the house of the Lord."
When the cripple at the gate beautiful was healed, he jumped right into the center of the church. (Acts 3:8)
U.S. President Theodore Roosevelt said "After a week on perplexing problems it does so rest my soul to come into the house of the Lord and to sing and mean it; "Holy, Holy, Holy Lord God Almighty" It is my joy and great glory that, in occupying an exalted position in the nation, I am enabled, to preach the practical moralities of the Bible to my fellow-countrymen and to hold up Christ as the Hope and Savior of the world".
When Christians put their gifts, talents and passions into the mix for a commitment to gospel teamwork, then God will restore His church back to Full Power to take the gospel around the world. (Ephesians 4:16)
Matthew 24:14 "This gospel of the kingdom will be preached in all the world as a witness to all nations, and then the end will come." Gospel Globalization - not secular globalization - will usher in the return of Christ and the end of this age!!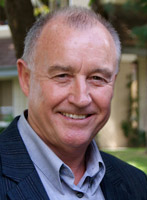 Yours for the fulfilling of the Great Commandment and the Great Commission
Dr George Hill
Apostolic Founder and President of Victory Churches International