Luke 2:52 "Jesus increased in wisdom and stature, and in favour with God and men."
Definition of Favour is, "An act of kindness beyond what is due or usual." It's when you get more than you deserve: I have worked hard, but not this hard. I have been good, but not that good. I have given, but not that much! Favour!
Favour is different than "Favours". Favours are often actions designed to influence, control, and manipulate others. This is a very different thing than Divine favour! In this last USA election, we saw media giants, business people, and judges doing "favours" for politicians with an anticipated return in mind. When this happens in government or law it is a criminal abuse of authority and it is very wrong!
Favour is when others, out of good will, seek to benefit you. "He who earnestly seeks good finds favour" (Prov 11:25) Divine favour is when God pours out His benefits on you simply because your ways have pleased Him. (Ps 103:2) When a man's ways please the Lord He causes even your enemies to favour you! (Prov 16:7)
Six Ways To Grow In Favour With Both God And Man:
Live your life wholeheartedly for God. "For You, O Lord, will bless the righteous: With favour You will surround him as with a shield." (Ps 5:12)
God is rewarder of those who diligently seek Him. (Heb11:6). Was it an accident that Pharaoh showed favour to Joseph? Or that Daniel found favour with all of the kings he served under? No! They both diligently sought the Lord, even when it wasn't to their advantage. Do it!
Perseverance during the pain of correction, brings long term favour. "His anger is but for a moment, His favour is for life;" (Ps 30:5). "We count them blessed who endure. You have heard of the perseverance of Job and seen the end intended by the Lord-that the Lord is very compassionate and merciful." (James 5:11) Job kept the right heart attitude and received double for his trouble!
Use your business to do God's business, then God makes it His business to bless your business! "Let them shout for Joy and be glad who favour my righteous cause." (Ps 35:27) Peter lent his boat to Jesus and He blessed his business big time in return. (Luke 5:1-11) It takes a commitment to being involved in God's business if you want God's favour on your business.
Ask for favour from God and man. "You have not because you ask not." (Jam 4:2-3) Asking your boss for an increase at the right time and in the right way can cause favour to come your way. Try making a wise appeal like Queen Esther did. (Esther 5:1-8)
Blessing others causes you to reap favour with others. Ruth finding favour with Boaz is a great example of this principle. (Ruth 2:2-13). God always has someone watching you who has the ability to bring you into your next season of blessing. Whenever possible, sow blessing into the lives of others.
Recognize favour when it comes, and give the praise and glory to God.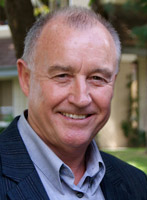 Yours for increased favour and extraordinary success
Dr. George Hill
Apostolic Founder and President of Victory Churches International